Other Available Therapies
Reflexology.
Foot massage helping to assist lymph drainage, eliminate toxins, give deep relaxation, and get you 'floating on air'.
Q2 Energy Footspa.
To help detox, de-stress, revitalise. A stand-alone treatment, or used in combination.
Hopi Candling.
To assist relief of catarrh, blocked sinuses, vertigo, temporary deafness.

Alkalife Drops
. May be an essential part of a healthy diet: 75% fruit, veg, herb teas, etc and 25% meat, bread, coffee, etc. 10 drops a day in your 1.5 litres of pure drinking water helps to keep you alkaline. (NB. Cancer cells cannot live in an alkaline environment.) About 10 drops a day (2 months supply per bottle).
Amega Wand and Pendant. 'Zero point energy' assists the body to 'remember' its original energy source, and so begin to repair itself. The effects can seem miraculous.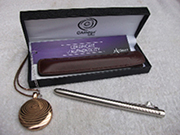 DOWNLOAD PDF >>
Treatment Prices.
Books
On The Trail of the Waitaha
Tracing New Zealand's Hidden Nation by TIM WILLCOCKS Published July 22nd 2017.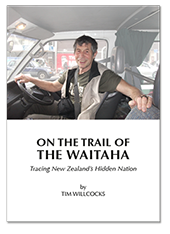 Set in New Zealand, this personal quest and documentary takes us into the heart of the land and the people, with adventures both mundane and esoteric.
"I had certainly not intended to get into a relationship, become so involved in therapy or end up tracing amazingly ancient roots in that land!"
Travelling by camper van to some wonderful places on tourist itineraries, as well as discovering a number of remarkable phenomena not on them, Tim Willcocks opens a window on the distant past of 'Aotearoa' and challenges an apparent amnesia about the rich, ancient history of the nation.
Approach this book with an open mind to appreciate fully the depth of a number of the incidents related which verge on the paranormal.
Tim's inevitable conclusion is that it is very possible that the last 5,000 years of New Zealand's history may have to be turned on its head!
£10.00 (Plus £2.50 for p&p within the UK)
---
£10.00 (Plus £5.00 for p&p to Europe)
---
£10.00 (Plus £6.00 for p&p to the rest of the world)
---
Telephone 01684 567721 or email